Description
AGADIR JET SKI  : Feel the adrenaline rush through your veins while you speed over the clear coastal waters on a Sea Doo jet ski. Discover the amazing coastline of Agadir while leaping over the waves on a 110-horsepower jet ski.
We will collect you from your hotel in Agadir at the selected time before heading to the city's spectacular coastline. There, an expert instructor will give a brief explanation on how to control the vehicle safely, and the best route to take through the waters.
Then you are ready for your adrenaline-boosting adventure on the coast of Agadir. For thirty minutes, you will have total control of your own jet ski vehicle. You will hop along the waves while admiring the stunning views across the Moroccan shoreline.
Our tour finishes back at the hotels of Agadir.
Do I need a permit or license?
To drive one of these Jet Skis, you do not require a special license or permit, and previous experience is not necessary. Our instructors will show you the basic techniques to control this vehicle in a simple and safe way.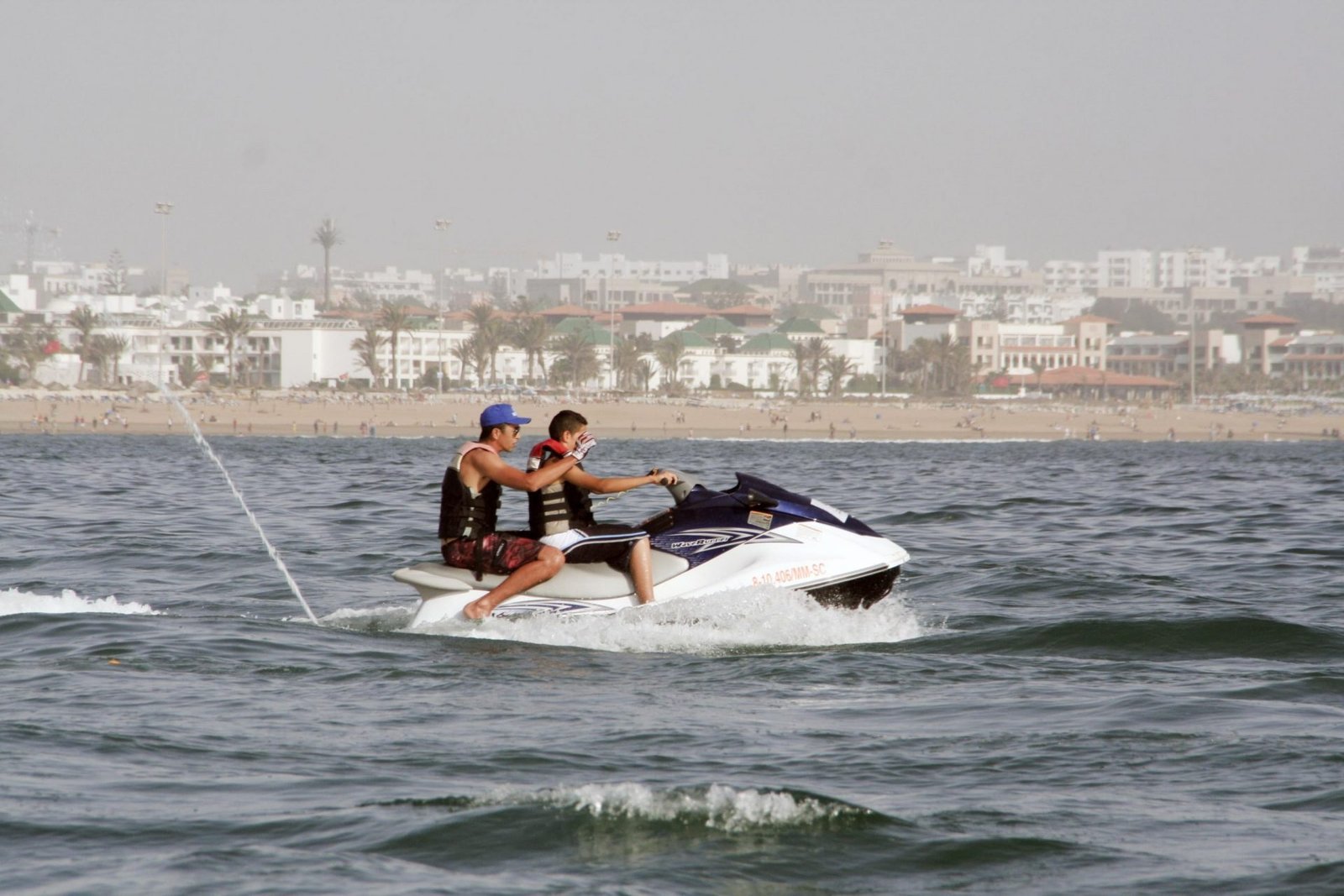 Highlights of the Activity : 
– Admire the views of Agadir from the water
– Feel the adrenaline on a 110-horsepower Sea Doo jet ski
– Cool off and have fun with friends and family
– Enjoy roundtrip transportation from your hotel in Agadir
The Tweenies Family
2023-08-13
I used them to go and watch the fantasia show. At first I thought I was paying too much but to be honest it's amazing value for money. We got picked up and dropped off to our hotel, the show we received a three course meal, plus tea and desserts. I was so full from food my belly was hurting! The show is really good too and we got to rude the horse too. Amazing value for money!
Great thing to do Amazing view from the top on a clear day Only a short walk from the beach Reasonably priced
Friendly staff quads atv in good conditions.Highly recomended for group activity
I recently went on the Quad Bike excursion in Taghazout with "Tours in Agadir," and it was fantastic! The quad bikes were easy to ride, and the landscapes were stunning. The guides were knowledgeable, and the whole experience was well-organized. I highly recommend it for anyone looking for an adventurous and enjoyable activity in Taghazout.
Viaje seguro y agradable. Recomiendo
Claudio Piccolo
2022-10-20
Agenzia TourInAgadir il miglior modo per visitare Agadir e dintorni. Grande elogio a Rachid e Ismail che hanno saputo trasformare in una vera vacanza il nostro tempo ad Agadir. In ogni posto dove ci hanno portato hanno saputo rendere la visita ancora più bella, dalla Paradise Valley, al giro con i quad, alla spiaggia di Legzira. Non sono stati solo bravi, professionali e gentili ma anche estremamente efficienti quando si è dovuto risolvere un problema grave. Sono riusciti a gestire la situazione con grande professionalità e umanità. Se dovessimo tornare per la quarta volta in Marocco, non esiterei a incontrarli per ringraziarli di nuovo e magari organizzare qualcos'altro con loro. Sicuramente straconsigliato!!!!
For anyone visiting Morocco, I would highly recommend Admire Morocco tours. Rachid was extremely accommodating and responded to my what's app messages instantly. Nothing was too much of an ask for him. We booked airport transfers with TOURS IN AGADIR and they were on time and happy to wait for us on both instances when the plane and bus arrived late. We also booked the quad tour which was extremely fun and enjoyable along with being good value for money. While staying in Agadir, we decided last minute to do a tour of crocopark and within half an hour, TOURS IN AGADIR were at the door of our hotel ready to take us on the tour. They truly are a fantastic company and I will certainly be using them again when I visit Agadir in the future
elgandouri rim
2022-08-23
el mejor servicio Se lo recomendaría a cualquiera y volveremos Tuvimos unas maravillosas vacaciones relajantes .