Description
 The Medina of Essaouira, formerly named Mogador (name originating from the Phoenician word Migdol meaning a « small fortress »), is an outstanding example of a fortified town of the mid-eighteenth century, surrounded by a wall influenced by the Vauban model. Constructed according to the principles of contemporary European military architecture, in a North African context, in perfect harmony with the precepts of Arabo-Muslim architecture and town-planning, it has played a major role over the centuries as an international trading seaport, linking Morocco and sub-Saharan Africa with Europe and the rest of the world. The town is also an example of a multicultural centre as proven by the coexistence, since its foundation, of diverse ethnic groups, such as the Amazighs, Arabs, Africans, and Europeans as well as multiconfessional (Muslim, Christian and Jewish). Indissociable from the Medina, the Mogador archipelago comprises a large number of cultural and natural sites .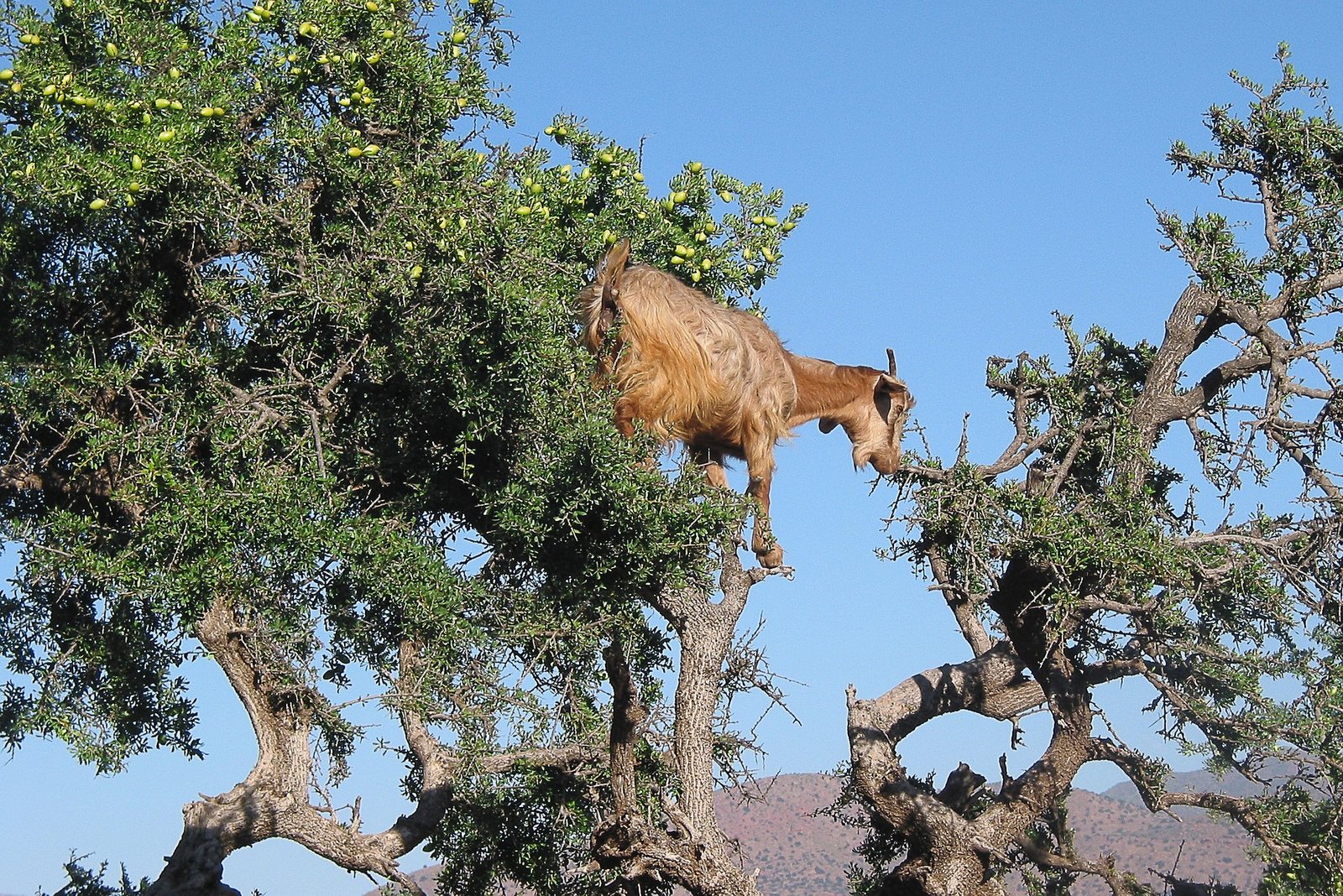 Our tour will start by driving for a couple of hours through the atlas mountain, with few stops along the way:
First stop to see some "flying goats" climbing the Argan trees looking for the fresh nuts.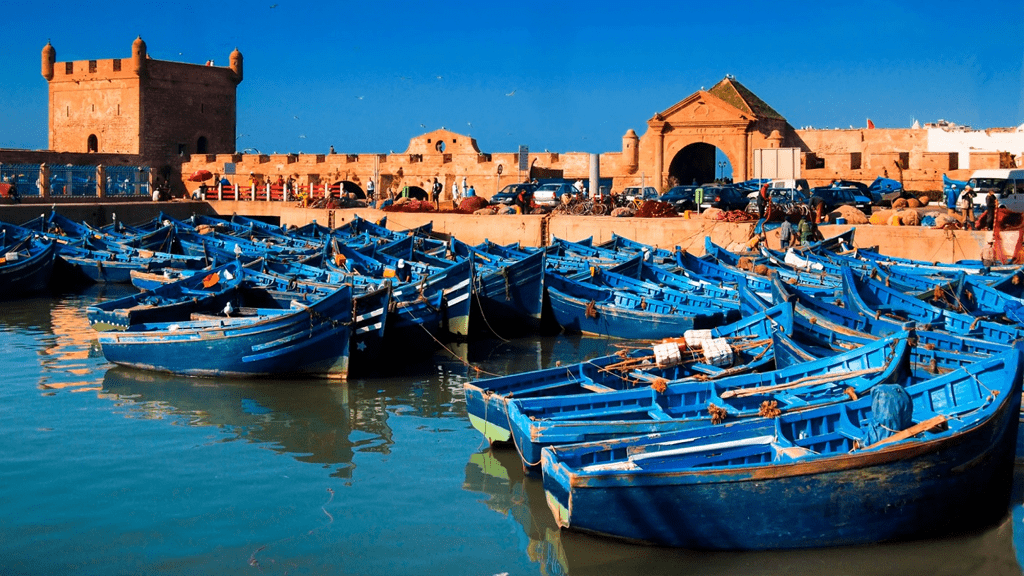 Second stop to relax and have a coffee break in a berber village.
Third stop to visit the Argan Oil factory.
Once in Essaouira, you will have free time to admire its fortifications, the fishing port and the labyrinthian old town, where you can bask in the atmosphere and the day to day life of its inhabitants. The town too boasts a seemingly unending beach and it is recommended to try the delicious freshly caught fish and seafood.
After your free time to enjoy the city and its beautiful sunny beaches, return to the road for your trip back to Agadir with few Stops along the way again, to rest and watch the sunset on a wild beach.
Highlights of  ESSAOUIRA FROM AGADIR:
• Trace the captivating Atlantic coast that stretches between Agadir and Essaouira.
• Delight in the picturesque expanse of the Atlantic Ocean and the sight of Argan trees.
• Roam freely within the charming confines of Essaouira's old medina.
• Bask in the enchanting ambiance of Essaouira before embarking on the journey back to Agadir.
Note to Consider
This Trip requires 2 people or more in order to take place, single traveller will have to check for availability before making a reservation.
Meeting point
Our driver will pick you up at your hotel or any other location at the agreed time in Agadir . In case you have any special requests or need assistance, please feel free to call us or chat with us on WhatsApp using the contact information provided.
Free cancellation
Enjoy peace of mind with our flexible cancellation policy. We offer free cancellation up to 48 hours before the service starts. However, please note that cancellations made within this timeframe or failure to show up for the scheduled service will not be eligible for a refund.
Easy booking
Booking made easy! If you encounter any difficulties during the booking process or if you require assistance with any other service, please feel free to contact us via WhatsApp. Our team is here to assist you and ensure a seamless experience.
When should you book?
You can book up until 4 hours before the activity as long as there are still places. Book now to guarantee your spot.
How E-ticket works?
With your confirmation e-mail, you will receive an E-voucher. Please save it on your smartphone and show it to your guide when you pick it up.
The Tweenies Family
2023-08-13
I used them to go and watch the fantasia show. At first I thought I was paying too much but to be honest it's amazing value for money. We got picked up and dropped off to our hotel, the show we received a three course meal, plus tea and desserts. I was so full from food my belly was hurting! The show is really good too and we got to rude the horse too. Amazing value for money!
Great thing to do Amazing view from the top on a clear day Only a short walk from the beach Reasonably priced
Friendly staff quads atv in good conditions.Highly recomended for group activity
I recently went on the Quad Bike excursion in Taghazout with "Tours in Agadir," and it was fantastic! The quad bikes were easy to ride, and the landscapes were stunning. The guides were knowledgeable, and the whole experience was well-organized. I highly recommend it for anyone looking for an adventurous and enjoyable activity in Taghazout.
Viaje seguro y agradable. Recomiendo
Claudio Piccolo
2022-10-20
Agenzia TourInAgadir il miglior modo per visitare Agadir e dintorni. Grande elogio a Rachid e Ismail che hanno saputo trasformare in una vera vacanza il nostro tempo ad Agadir. In ogni posto dove ci hanno portato hanno saputo rendere la visita ancora più bella, dalla Paradise Valley, al giro con i quad, alla spiaggia di Legzira. Non sono stati solo bravi, professionali e gentili ma anche estremamente efficienti quando si è dovuto risolvere un problema grave. Sono riusciti a gestire la situazione con grande professionalità e umanità. Se dovessimo tornare per la quarta volta in Marocco, non esiterei a incontrarli per ringraziarli di nuovo e magari organizzare qualcos'altro con loro. Sicuramente straconsigliato!!!!
For anyone visiting Morocco, I would highly recommend Admire Morocco tours. Rachid was extremely accommodating and responded to my what's app messages instantly. Nothing was too much of an ask for him. We booked airport transfers with TOURS IN AGADIR and they were on time and happy to wait for us on both instances when the plane and bus arrived late. We also booked the quad tour which was extremely fun and enjoyable along with being good value for money. While staying in Agadir, we decided last minute to do a tour of crocopark and within half an hour, TOURS IN AGADIR were at the door of our hotel ready to take us on the tour. They truly are a fantastic company and I will certainly be using them again when I visit Agadir in the future
elgandouri rim
2022-08-23
el mejor servicio Se lo recomendaría a cualquiera y volveremos Tuvimos unas maravillosas vacaciones relajantes .