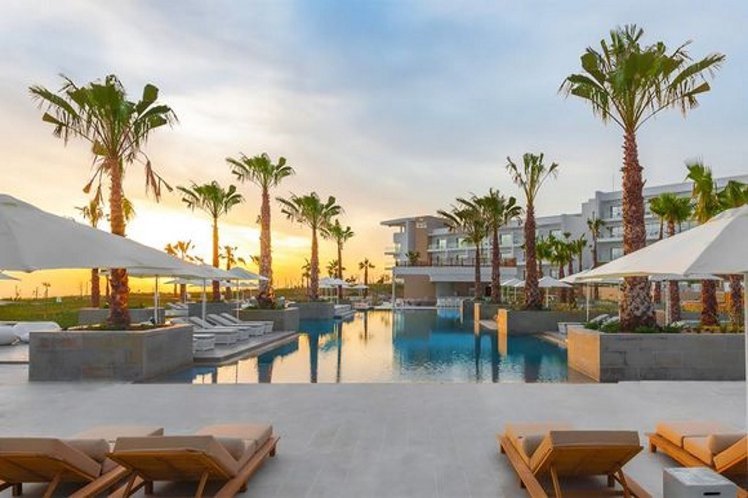 Nestled along the southwestern coast of Morocco, Agadir and Taghazout emerge as two gems that captivate visitors with their unique charm, stunning landscapes, and vibrant cultural offerings. In this comprehensive exploration, we delve into the enchanting world of Agadir and Taghazout, uncovering their most popular hotels and clubs that contribute to an unforgettable Moroccan experience.
---
Agadir: Where Modern Luxury Meets Moroccan Traditions
The Beachfront Elegance of Sofitel Agadir Thalassa Sea & Spa:
Elevating the concept of luxury, Sofitel Agadir Thalassa Sea & Spa stands as a beacon of sophistication on the Agadir shoreline. This five-star haven seamlessly blends modern elegance with traditional Moroccan aesthetics, offering guests a refined retreat. The allure of the Thalassotherapy spa, paired with exquisite Moroccan cuisine served in its renowned restaurants, makes Sofitel Agadir a premier choice for those seeking the pinnacle of indulgence.
Panoramic Views and Leisure at Royal Atlas Hotel:
Perched overlooking the Atlantic Ocean, the Royal Atlas Hotel boasts not only panoramic views but also a wealth of amenities that promise a memorable stay. From multiple swimming pools to a well-equipped fitness center, this hotel is a gateway to relaxation. The proximity to Agadir's lively promenade ensures that guests can effortlessly immerse themselves in the city's vibrant atmosphere.
Golf, Spa, and Entertainment at Atlantic Palace Agadir:
For those desiring a multifaceted experience, the Atlantic Palace Agadir Golf Thalasso & Casino Resort offers a blend of golf, spa, and entertainment. The allure of the golf course, lavish spa treatments, and the lively casino create an environment where leisure and excitement converge. Spacious rooms and suites provide a comfortable sanctuary after a day of exploration.
Riu Palace Tikida Agadir: A Beachfront Extravaganza:
The Riu Palace Tikida Agadir stands as a beachfront palace-style hotel, radiating elegance in every detail. With its array of amenities, including multiple swimming pools, a spa, and diverse dining options, guests are treated to a royal experience. The opulent surroundings and attentive service contribute to an atmosphere of grandeur.
Iberostar Founty Beach: Beachside Bliss and Recreational Joy:
Located directly on the beachfront, Iberostar Founty Beach combines well-appointed rooms with a plethora of recreational activities. From relaxing by the sea to enjoying the various on-site facilities, this hotel caters to diverse interests. Multiple restaurants and bars provide a culinary journey that complements the overall immersive experience.
---
Taghazout: Surf, Relax, Repeat
Hyatt Place Taghazout Bay: Contemporary Comfort with Surfing Vibes:
Overlooking the Atlantic, the Hyatt Place Taghazout Bay stands as a contemporary haven with a laid-back surfing vibe. This hotel caters to both comfort seekers and surf enthusiasts, offering easy access to renowned surf spots. The stylish accommodations and the serene ambiance make it a top choice for those seeking a modern and relaxed retreat.
Paradis Plage Surf Yoga & Spa Resort: Where Eco-Friendly Luxury Meets Wellness:
Nestled between the Atlas Mountains and the ocean, Paradis Plage Surf Yoga & Spa Resort embraces eco-friendly luxury. Ideal for wellness seekers, this resort offers yoga by the beach, rejuvenating spa treatments, and organic cuisine. The holistic approach to well-being, combined with the stunning natural surroundings, creates a tranquil haven for relaxation.
Taghazout Bay Resort – Sol House Morocco: Modern Design and Lively Atmosphere:
With its modern design influenced by Moroccan aesthetics, Taghazout Bay Resort – Sol House Morocco offers a vibrant and social atmosphere. Positioned on the beachfront, the resort features a trendy rooftop bar, providing a lively experience in the heart of Taghazout. The combination of style, entertainment, and beachside location makes it a popular choice for those seeking a dynamic stay.
Surf Maroc Taghazout Villa: Charming Villa Retreat for Personalized Experiences:
For a more intimate and personalized stay, Surf Maroc Taghazout Villa presents a charming villa-style accommodation. Set in a laid-back atmosphere, this retreat caters to those who appreciate a more bespoke experience. With its proximity to the beach and the village, guests can immerse themselves in the local culture while enjoying a relaxing stay.
Solidaire House Taghazout: Comfortable Stay in the Heart of Taghazout:
Located in the heart of Taghazout, Solidaire House Taghazout offers comfortable and stylish accommodations. With a relaxed setting and easy access to the beach and local attractions, this hotel provides a convenient and welcoming base for exploring the vibrant energy of Taghazout.
---
The Nightlife Extravaganza: Clubs in Agadir and Taghazout
While Agadir and Taghazout are renowned for their serene landscapes and cultural richness, the nightlife in these Moroccan destinations adds a vibrant dimension to the experience. Here are some of the most popular clubs that come alive after the sun sets:
Agadir Nightlife:
So Lounge Agadir:
Situated on the beachfront, So Lounge Agadir offers a sophisticated nightlife experience. With its chic ambiance, live music, and international DJs, it's a hotspot for those seeking a stylish evening by the sea.
Papagayo Beach Club:
Nestled in the heart of Agadir, Papagayo Beach Club is known for its lively atmosphere and beachside setting. It's a favorite among locals and visitors alike, offering a mix of music genres to keep the dance floor alive.
Paradise Valley Club:
For a more intimate and eclectic experience, Paradise Valley Club caters to a diverse crowd. The club's unique decor and diverse music selection make it a standout venue for a night out in Agadir.
Taghazout Nightlife:
La Paillote:
Set against the backdrop of Taghazout's stunning coastline, La Paillote is a beachside bar and club. It's a popular spot for enjoying live music, refreshing cocktails, and the laid-back vibe of Taghazout.
Aloha Surf Bar:
Known for its surf-inspired decor and relaxed atmosphere, Aloha Surf Bar captures the essence of Taghazout's surf culture. It's a great place to unwind after a day of exploring the waves.
Sunset Beach Club:
As the name suggests, Sunset Beach Club is a prime spot for enjoying breathtaking sunsets over the Atlantic. With live music and a welcoming atmosphere, it's a popular choice for a relaxed evening in Taghazout.
---
Conclusion: Embark on a Moroccan Odyssey
Agadir and Taghazout, with their distinct personalities, beckon travelers to explore the diverse facets of Morocco's coastal beauty. From the luxurious beachfront elegance of Agadir to the surf-centric charm of Taghazout, each destination offers a unique tapestry of experiences. The carefully selected hotels and vibrant clubs contribute to an immersive journey, where the warmth of Moroccan hospitality meets the allure of the Atlantic. Whether you seek relaxation, adventure, or a vibrant nightlife, Agadir and Taghazout stand ready to unveil the magic of Morocco's coastal paradise. Embrace the enchantment, and let the waves of the Atlantic carry you into a world where every moment is a celebration of beauty and